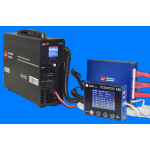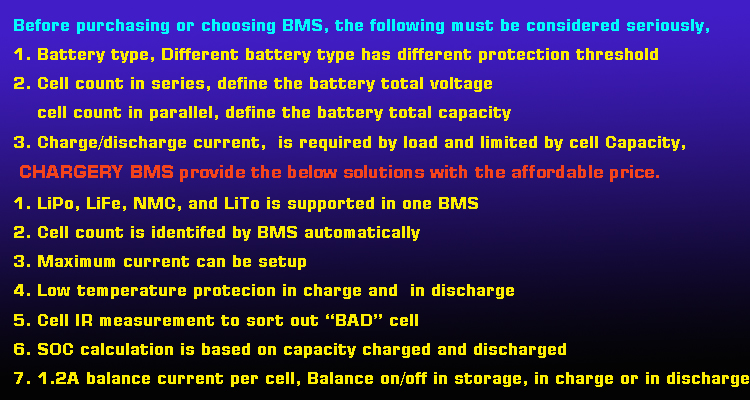 New Features on P series BMS
Add

Disc

harge

End voltage of cell

, and charge, discharge status send out -----Protocol v1.26
Added RS232 port, allowing for external devices to read out the data from the BMS. Additional Information on the data is located here: Chargery BMS communication protocol.

DCC (DC contactor) must be installed on battery positive, the DCC terminal A and B have not diffference, the current can flow from A to B or form B to A, the ISO board that is ship with DCC must be connect to BMS and DCC. DCC is only control by BMS, more details or troble shooting.
Plug and Play, do not need install USB driver.
Optimized SOC accuracy. New approaches are based on voltage and coulomb counting that take the individual cell impedances into consideration. Please configure the correct battery capacity (AH) and battery power (Wh) via the Program setup menu before using the BMS8T, 8P, 16T , 16P, and 24T, 24P.

AC chargers for 8S, 16S and 24S battery is available. all chargers can communicate with BMS, save a charge relay or DCC, shortent charing time, BMS don't need disconnect charging, only decreasing charging current.
C3060 can charge 1S-8S at 60A 1500W,
C6830 can charge 4S-16S at 30A 1500W
C10325 can charge 4S-24S at 25A 1500W
The BMS uses one Current Shunt to detect Charge & Discharge current per battery pack. The BMS controls Charge & Discharge relays separately.