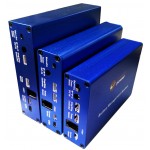 Battery Management System, that is designed and manufactured by Chargery
Over charge protection
Over discharge protection
Over current protection
Battery Voltage, Current, Impedance, Capacity, Power and SOC measurement and display.
Balance current of 1.2A per cell
Maximum charge or discharge current , 600A
Update Log

BMS8T,16T and 24T draw current from total battery pack even 24S lipo at full charge (100.8v)
Added RS232 port, allowing for external devices to read out the data from the BMS. Additional Information on the data is located here: Chargery BMS communication protocol.
For same Battery positive and negative terminal when charge and discharge, BMS8T,16Tand 24T can control charge and discharge separately. And detect charge and discharge current with one current shunt.
Plug and Play, do not need install USB driver.
Improved cell voltage detection accuracy
Added over-current protection during cell balancing
Add low temperature protection (on LCD unit V3.03)
Add WH setup that is used for SOC calculation (on V4.0)
Add balancing indicator
Add cell impedance measurement and send out.
Add WH, AH send out.
Add cooling fan connector (on hardware V3.2), optional cooling fan can speed up balancing, fan speed is adjusted automatically (on program V4.0)
Optimized SOC accuracy. New approaches are based on voltage and coulomb counting that take the individual cell impedances into consideration. Please configure the correct battery capacity (AH) and battery power (Wh) via the Program setup menu before using the BMS8T, 16T and 24T.
Added current, AH and WH, and SOC to interface. The user can now read the charge or discharge current, total battery capacity, as well as current power and battery capacity remaining on one easy to use interface.
Updated relay controller to use a 12V 3A regulator powered by the battery pack. It can now drive both large current mechanical and solid state relays.
If using external adapter, the BMS can support 2S-15S battery, the external voltage range is 13-100V.
The BMS uses one Current Shunt to detect Charge & Discharge current per battery pack. The BMS controls Charge & Discharge relays separately.
Chargery 100V 600A DCC contactor is available, work with Chargery BMS perfectly.