400W power supply
Brands
CHARGERY
Product Code:
S400 V3.0
Availability:
In Stock
$69.90
Ex Tax: $69.90

S400 is a PFC power supply, it can output 13.5A at 10V-30V 400W max. at AC100V~240V, and the internal temperature is still under 75℃.
Features
Active PFC: smaller AC input current less interference, and Conform to European Commission Regulation no 278/2009 and Energy Star Version 2.0
AC100-240V worldwide use: need not any alternative switcher, worldwide safe operation
Up to 92% of convert efficiency
Programming output voltage from 10 to 30V, suitable for more application
Digital display output voltage and current on time
Over current, over voltage, over load and over temperature protection, and resume automatically
Short-circuit protection on output, safer and more reliable
Intelligent cooling fans turned on at over 45℃and increase speed with the temperature going up.
Synchronous Rectification make sure the high efficiency and smaller size
Start at no load or full load perfectly
Approved by CE
12 months warranty
Input
Rated Voltage : AC110 / 220V
Voltage allowed :AC100 ~ 240V
Rated Freq. :50/60Hz
Freq. Allowed :47~63Hz
Max Current : 4.5A @100V, 2.0A @220V
Efficiency: 90% at 60% load and 220Vac input.
Active PFC: PF>0.99 at 100VAC and 100% of load; PF>0.97 at 220VAC and 100% of load
Output
ated Voltage :10 ~ 30V programmed
Voltage accuracy: ±1%
Ripple voltage: 150mV.
Rated Current:0 ~ 13.5A
Protection
Over voltage protection and resume automatically,30.5V max.
Over current protection and resume automatically, 14A max.
Over load protection and resume automatically, 400W max.
Over temperature protection and resume automatically, 85℃ max.
Short- circuit protection on output and resume automatically.
Mechanical Characteristics
Size:145*106*55 (L*W*H, mm) or 5.7 * 4.2 * 2.16 (L*W*H, inch)
Weight: 0.8Kg without input cable
Output DC connector: XT60.
Packaging Information
S400 base unit: 1pcs
Power cable: 1pcs
Quickly Start card:1pcs
Rubber foot: 4pcs
Manual
Optional board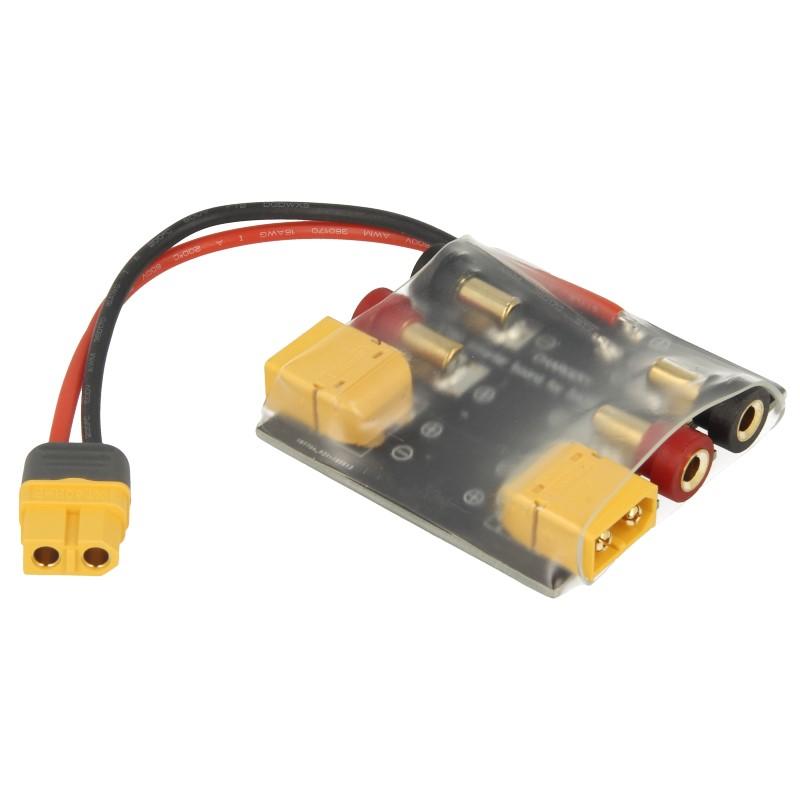 The power supply S400 V3.0 has only one XT60 connector outlet.
The connection board can easily connect several devices to the S400 V3.

Technical data:

Connecting cable AWG14 / 2,5 mmm with XT60 socket

Distribution to 2x XT60 plugs and 2x 4 mm sockets
Current load capacity up to 25A