2S-16S 300A BMS
Brands
CHARGERY
Product Code:
BMS16 V2.0
Availability:
In Stock
$89.90
Ex Tax: $89.90

Chargery BMS16 is designed special for LiPo & LiFe battery pack applied to storage energy system and Electrical Vehicle including E-Motorcycle, E-Scooter and so on. The unit can measure or detect the battery voltage, cell voltage, charge & discharge current, battery temperature, and battery SOC (State of Charge) , displayed with TFT color LCD.

Features
1. The BMS16 uses advanced ADC measurement technology, high accuracy, high voltage and high current detection circuit. The maximum voltage measurements tolerance is within 5mV at up to 16S LiPo battery (68V)
2. Charge/discharge current up to 300A continue, 600A burst.
3. BMS16 calculate and display the charge and discharge power (Wh), generally the battery rated power is rated voltage multiply rated battery capacity.
4. TFT LCD screen that provides rich information including current, voltage, power, capacity, control status, SOC and temperature and so on.
5. BMS16 features a maximal safety protection, within the range parameters can be setup, BMS16 will alarm and cutoff charge or discharge according to users' setup, out of range of parameters, and trigged absolute maximum ratings BMS16 will force to cutoff charge or discharge to prevent the battery from fire.
6. Minimize the power consumption by draw current from all cells or external power supply.
7. Dual power design, the unit can be powered by all cells or external power supply.
8. Detect cell count at any time, and compare with the count detected when switch on first time. If it is not uniformity, the device will alarm and cutoff charge or discharge according to users' setup, the feature can prevent any cell connection from loosing.
9. Sound alarm and LED alarm will be triggered when any warning events happened, and then wait several seconds cut off or NOT charge or discharge. The delay time can be programmed.
10. Charge relay and discharge relay are controlled independently.
11. Two temperature sensors monitor battery temperature on different location.
12. Supports upgrading the firmware program by USB port.
13. BMS16 provide users the maximal flexibility, key parameters can be programmed.
14. BMS16 display battery SOC or called battery gauge similar with car dashboard. Cell count, battery pack voltage and battery gauge (%) is displayed simultaneously.
15. In case that the battery pack need not be charged and discharged, Press STOP button enter into sleep mode to save energy consumption. Charge and Discharge is cut off, LCD back light is off. Press any key to resume normal work mode.
16. LCD back light ON time can be programmed to save energy, when it is OFF, press any key to resume "ON".
Technical specifications

1. Battery range: 2S-16S LiPo & LiFe battery pack
2. Accurate scope of the cell voltage: -5mV/+5mV
3. Cell Voltage display range: 0.10~4.99V
4. The voltage of external power:13.5-60V.
5. Temperature display range:0.0℃~150℃,
Display 0.0 when under 0.0℃
6. SOC indicator:
RED area @ 0~15% of SOC
YELLOW area @ 16~35% of SOC
GREEN area @ 36~100% of SOC
7. Size:105*80*24 ( L*W*T, mm)
8. Weight: 190g , exclude any accessories.
9. Warning LED: 11000mCd, @ 2.0V, 20mA
10. Warning beeper: 85dB @ 12V, 25mA 11. Package: AL alloy case
Package
BMS main unit: 1pcs
Standard accessories: 1 set
Current shunt: 1pcs
Note:
Shunt is calibrated before delivery
Each cell volatage is calibrated before delivery
Watch below video before installation
Read Owner manual carefully before operation
More details please contact us at jasonwang3a@163.com or visit www.chargery.com
Manual

Video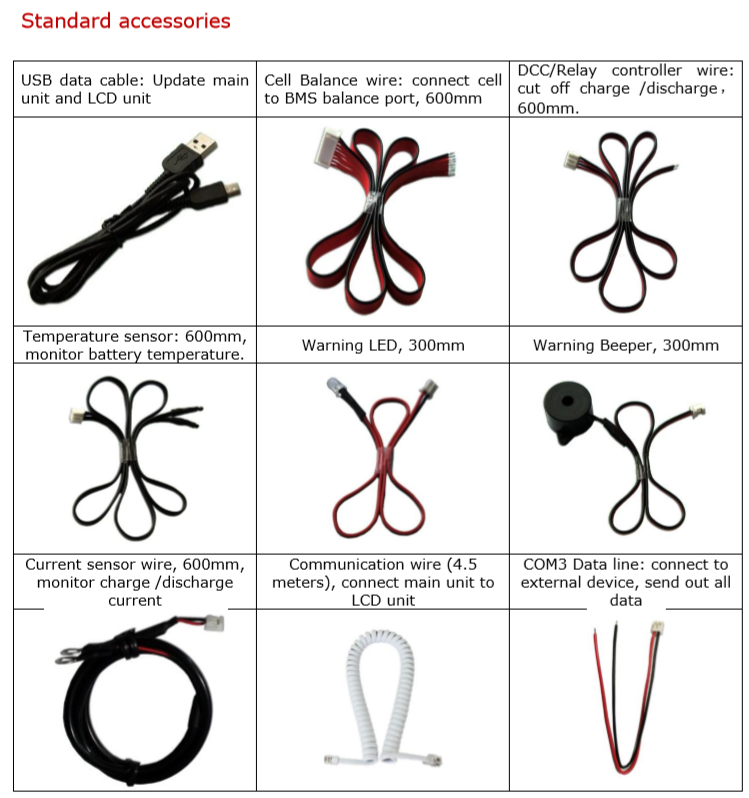 Current Shunt

DCC Contactor----delivery default here is DCC on common port. if need DCC on separate port, please buy on DCC contactor detail pages.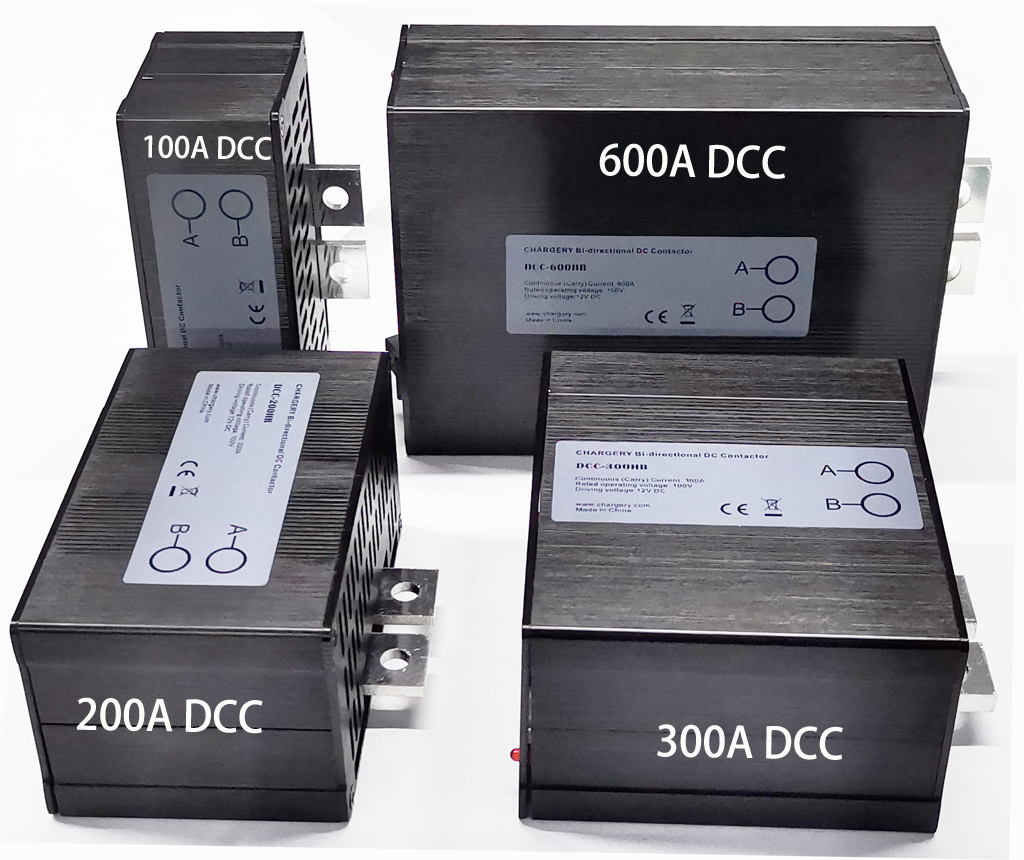 External power board
the External power Board is for connecting battery to external socke on BMS, avoid battery power BMS by voltage sense wire, then improve cell voltage accuracy.