16S 30A 1500W LiPo/LiFe/LiTo Battery Charger
Brands
CHARGERY
Product Code:
C6830
Availability:
In Stock
$279.00
Ex Tax: $279.00

The Battery Charger has been designed to provide reliable, quality charging for battery systems in electric drive vehicles. It can charge up to 16S Lthium battery at 30A , 1500W at AC90V~265V in a smaller size. Many creative technology help to realize up to 92% of efficiency, and the internal temperature is still under 100℃. The following are some new features:
Features
Intelligent control output voltage and current by microprocessor, 100% calibration before delivery
±1% voltage and current accuracy
Active PFC: smaller AC input current less interference, and Conform to European Commission Regulation no 278/2009 and Energy Star Version 2.0
AC 90-265V worldwide operation: need not any alternative switcher, worldwide safe operation.
Low power consumption (less than 1W) at idle mode and standby mode
Up to 92% of convert efficiency.
Programmable output voltage from 10V to 60V
Programmable output current from 5A to 30A
TFT color LCD display output Voltage, current, power and internal temperature on time.
Over current, over voltage, over load, over temperature, and short circuit protection
Short-circuit protection on output, safer and more reliable.
2 Intelligent cooling fans turned on and adjust speed upon the temperature automatically
ZVS/ZCS and Synchronous Rectification assure the highest efficiency.
High power density: 652W/Kg
Approved by CE

24 months warranty
Input

Rated Voltage : AC110 / 220V
Voltage allowed:AC90 ~ 265V
Rated Freq. :50/60Hz
Freq. Allowed :47~63Hz
Max Current : 18A @90V, 7.5A @220V
Efficiency: 92% at 65% load and 220Vac input.
Active PFC: PF>0.99 at 90VAC and 100% of load; PF>0.97 at 220VAC and 100% of load
Output as Power Supply
Voltage :10 ~ 60V programmed
Voltage accuracy: ±2%
Current accuracy: ±2%
Ripple voltage: 150mV.
Current:1 ~ 30A programmed
Power: 1500W max.
Output as Charger
Charge current: 1-30A, 1500W max.
Protection
Over voltage protection,
Under voltage Protection, battery voltage is under 2V, don't charge.
Over current protection,
Over charge power protection, 1500W max.
Over temperature protection, 100℃ max.
Short- circuit protection on output.
Anti spark on battery connection even 102V battery connect to charger
Reverse polarity protection of battery connection
Prevent any cell from over charging, adjust charge current automatically fit with Chargery BMS
Mechanical Characteristics
Size:281*170*68 (L×W×H, mm) or 11.1×6.69×2.68 (L×W×H, inch)
Weight: 2.46Kg without input cable
Input power cable: AWG14 wire, 1.5m length
Output DC connector: XT-90I male connector on C6830A or XT-90 male connector on C6830B
Package
Charger unit: 1pcs
Power cable for AC: 1pcs, AWG14 wire, 1500mm length
Communiation wire: 1pcs

XT-90 or XT-90I female conntor:1pcs

Order Information
6830A-----Remote control charge current
6830B-----Automatic charge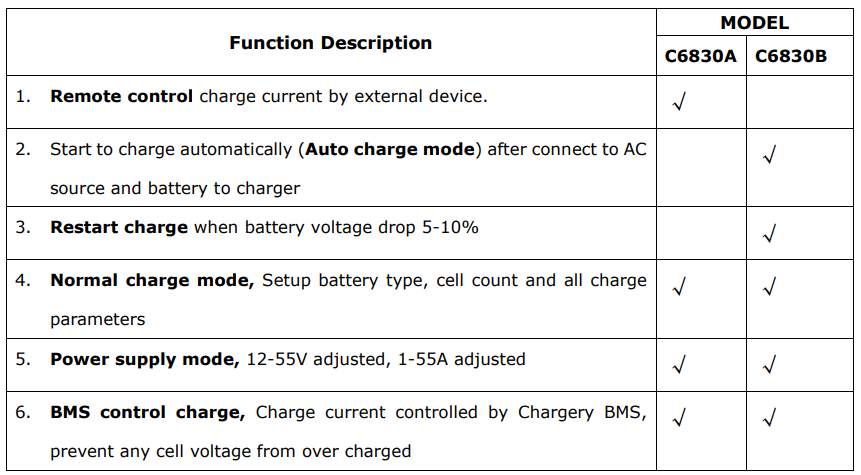 Manual
Video